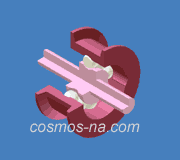 The wire in manufacturing may go through a corrosive pickling bath, a molten metallic bath and annealing at elevated temperatures, all denying the application of pulleys mounted on grease or oil lubricated metallic ball bearings. Our thermally stable and chemically inert Ball Bearing Pulley NT 046 ITGD made entirely of 100% Alumina, without lubricant, is the pulley of choice. This pulley, diamond polished, is free of molten metal adhesion and capable of withstanding 1,000oC. A cut away view of such a pulley is shown at right.

This is in fact a full-complement ceramic ball bearing with a flanged recess on the periphery of the outer ring. An Alumina adhesive capable of withstanding temperatures up to 1,500oC bonds the Alumina shaft into the inner race of the bearing. The as-cut length of the Alumina shaft is 60 mm. Other lengths are available upon request. The Alumina shaft offers 6 times the strength of a 304 stainless steel shaft at 1,000oC
The pulley is test-run to 4,000 RPM at room temperature. The suggested maximum speed without load at 1,000oC is 500 RPM. Please view High Temperature Pulleys for other versions available from COSMOS.
---
Contact Us
High Temperature Pulleys