Easy Selection We Offer

Selecting an eyelet of your choice from a long list of dimensions is always a time-consuming, if not tedious, undertaking. We address the issue in three ways:



The more popular eyelet wire guides are shown in dimensional drawings


Flanged eyelet guides are tabulated in ascending order of one critical
dimension of the eyelet to facilitate your search.


The hub diameter reduction and grooving services that we offer further extends
the usability of any eyelet that you select

The dimensional drawings are depicted under Eyelet Guide Flanged page 1 - 6 in ascending order of the eyelet's hub diameter "D".

The links below lead to our Ascending order lists, with the first column of each showing the dimension either D, B or C, to make it easy for you to locate the desired eyelet guide. The average file size of each list is 70 KB..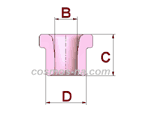 Ascending order of the hub diameter D


Ascending order of the bore diameter B


Ascending order of the total length C

How to Inquire
The most expedient way to send in an inquiry for the listed eyelets is to use the Parts Inquiry Form. In the event none of the listed eyelets fit your requirements, please fill in the Eyelet Inquiry Form, from which we will prepare an offer for your consideration. Another option is to email to www.info@cosmos-na.com

Hub Diameter Reduction Service Enhances the Usability

We offer a service to reduce the hub diameter "D" of our eyelet by up to 0.5 mm on the circumference, or a total reduction up to1.0 mm on diameter "D", provided sufficient stock is left to keep the minimum wall thickness at no thinner then 1.0 mm.
So does the Hub Grooving Service


While Grooved Eyelet Guides (see below) are available form stock, we also offer a hub grooving service for snap ring fitting onto the eyelet that you select. The minimum wall thickness of no thinner then 1.0 mm holds. Three groove widths are available, 1.1, 1.3 and 1.6 mm.
Select by Variations

Grooved Eyelets Slotted Eyelets Conductive Eyelets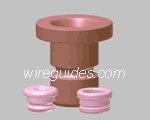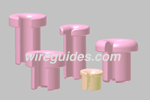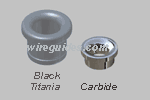 Eyelets with dedicated groove or slot at sintering are described in separate pages. While all eyelets made of Alumina are non-conductive, the ones made of Tungsten Carbide and, to a lesser extent, black Titania, are electrically conductive, and can be selected to dissipate the harmful static charge created in fiber processing, including the glass fiber.
---
You may also be interested in:

Air Wipe Ceramic Pulley Flyer Bow Nozzle Ring Sprayed Pulley

Rod Tube Snail Guide U-guide Welding Butts