Lian Co., a seasoned manufacturer of Carbon Fiber Flyer Bows, joined forces with Cosmos in the year 2007, in an effort to deliver Flyer Bows that save you time and money.
The Profile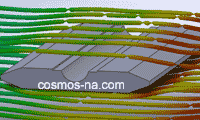 The behavior of a flyer bow, rotating at high speed, is analogous to an airfoil. Consequently, it is only logical that in designing the flyer bow, we analyze its aerodynamic performance as such. The result is an aerodynamically adapted Profile without surrendering the dedicated functions. The air flow pattern of one of our flyer bows is shown at left.
Material Characterization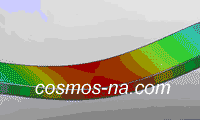 Routine lab tests, which prognosticate the performance of the flyer bow, are implemented for guidance in adjusting the hardness, stiffness and formulation of the bow material. The picture at left shows the result of a beam test.

The Wear Strips
Wear strips, bearing the full centripetal force of the traversing wire or cable, need to be made of the best wear-resistant material available. Ferrous strips are chosen in consideration of its exceptional toughness, wear-resistance and moderate cost. We offer wear strips in:

Plain carbon steel, hardened, of Rockwell Hardness HRC 50 - 55



Carbon steel, electroless-nickel plated, of Rockwell Hardness HRC 60 - 65
The electroless-nickel plated wear strips are not only harder, but also self-lubricant, extending the service life, reducing friction, upgrading wire quality.
Stocked Molds Expedite Delivery
Due to the great variety in configuration and dimensions, Flyer Bows are made to order. We endeavor to shorten the lead-time by keeping in stock the molds needed to fabricate the most frequently demanded flyer bows to fit spool diameter 300 mm to 1,600 mm: A list of the molds follows:
BEMA CABALLE CEECO CORTINOVIS DIGEP EN-SHANG

GAUDER GCR HAMANA KINREI LESMO NIEHOFF SAMP

NORTHAMPTON PAN-PIONEER POURTIER SETIC WATSON
In addition, we offer custom-made molds at moderate cost based upon your dimensional drawing.