The levitating Vortex Photographic evidence of the Vortex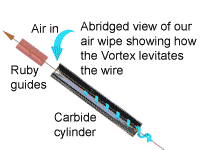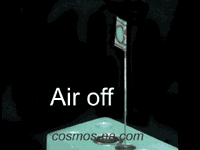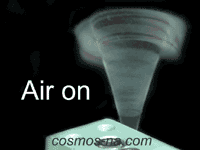 In a Vortex Air Wipe the potential energy of the compressed air is converted to 2 kinetic energy vectors, one linear and one rotational. The rotational vector creates in the wiping cylinder a strong, revolving Vortex, which imparts onto the water droplet/debris a rotational momentum about its center of mass, dislodging it (from the wire) and carrying it away with the linear vector.

In addition, the wire is levitated (top left) by this rapidly revolving cushion of air which helps to keep the wire at the center of the wiping cylinder, augmenting the dedicated function of the centering guide (the ruby guides in this illustration).
The photos demonstrate the Vortex at work. A wire with a small flag at its top was inserted into an AWM 51 Vortex Air Wipe at air off (top center). When the air was turned on (top right), the flag pole (that is, the wire), driven by the rotational vector, started to spin at high speed in the contour of a funnel, illustrating the performance of the Vortex.

A counter experiment was carried out to determine if a vortex actually exists in an air wipe under the influence of the Corioles effect without the vortex formation feature. The result was negative. Presumably, the Corioles effect, believed to be responsible for all large scale vortices' formation in the atmosphere, failed to deflect the air movement in the minute scale of an air wipe.

Home Supersonic Air Wipe AWM 61 AWM 51
Replacement Air Wipe Gap Dimension and Performance How to Save Air Wiping Cost
---