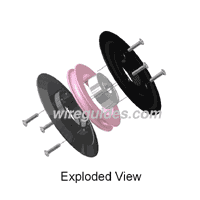 Merits of Flanged Pulley
Flanged Pulleys are Guide Pulleys or sheaves consisted of a precision grooved ceramic ring, clamped between two flanges with provision to secure bearing(s) at the center to impart rotational motion of the wire in a parabolic path, in conformity with the change in wire's direction of movement. See exploded view, right. They feature:
1. Light weight, low starting torque
2.Superior surface finish
3.Interchangeability of flanges.
Nylon Flanged Pulleys
Nylon flanged pulleys are used extensively in coil winding, tension control, pay off and take up devices. When fitted with plastic ball bearings and nylon assembly screws, nylon flanged pulleys are equally versatile in guiding wire submerged in water or mild acid bath at room temperature.

Aluminum Flanged Pulleys
Aluminum flanged pulleys feature precision machined components, assuring concentric rotation for applications where wire tension monitoring is critical. They are capable of guiding wire at elevated temperature but are not recommended for submerged operations.
Metric Bearings on Inventory
Sixteen (16) Flanged Wire Guide Pulleys are depicted in dimensional drawings in the ensuing pages. All units are in mm. Bearing numbers refer to default metric ball bearings currently on inventory. Imperial (inch) ball bearings or plastic ball bearings are available upon request.